Regular price
$ 53.33 USD
Regular price
Sale price
$ 53.33 USD
Unit price
per
Sale
Sold out
Share
So How Can Reiki Help My Pet?
Reiki is steadily gaining popularity in the animal world as a complementary health therapy. In fact the NCBI has even found through studies that, "Reiki is a safe and gentle "complementary" therapy that activates the parasympathetic nervous system to heal body and mind. ... Specifically, Reiki is being used as a treatment and connection method in a number of ways for pets including:
 Anxious or Stressed Pets
"The number one primary benefit and response to Reiki with animals is stress relief and deep relaxation," says Prasad".
 Coping With Illness and Surgery Recovery
When we are deeply relaxed, all of our systems relax and can function optimally and our immune system can operate more optimally. "Our bodies can heal themselves when we can allow ourselves to relax," explains Prasad. "I have seen animals who are sick for a long time and they get better more quickly or heal after surgery quickly with the help of Reiki."
 Reiki can also be helpful throughout the medical process. If you have a pet who is anxious at the vet, but requires many visits because of their sickness or needs surgery, Reiki can help prepare them.
 End of Life Care
Reiki is offered in many hospitals and hospices for both family members and patients. When Reiki is used to help an animal pass, we find similar benefits. "Animals handle death better than we do," says Clune. "They know they are dying, they need time to process this and to know they are leaving." Reiki can help provide that time so that a pet is not in severe pain as they cope with this impending change. It can also bring pet owners some peace as well, especially knowing that their pet is at peace — maybe eating more and being more playful in their final days — and ready to say goodbye.
 "Reiki can create this beautiful peacefulness in the dying process, sometimes it's not about getting better, but it's about finding peace," says Prasad.
 Bonding and Quality Time
Reiki can provide a way to strengthen the human-pet connection. "Animals teach us, they share with us even more than we share with them. They are intuitive beings," says Clune. Reiki can offer another way to connect with your pet and can be especially helpful if you have rescued a new pet with past trauma or notice significant changes in your pet's demeanor, but there are no physical signs of illness.
 - by Caitlin Ultimo for American Kennel Club
30+ minute sessions are held at my studio or home visit
Calming pet spray included (based on animal type)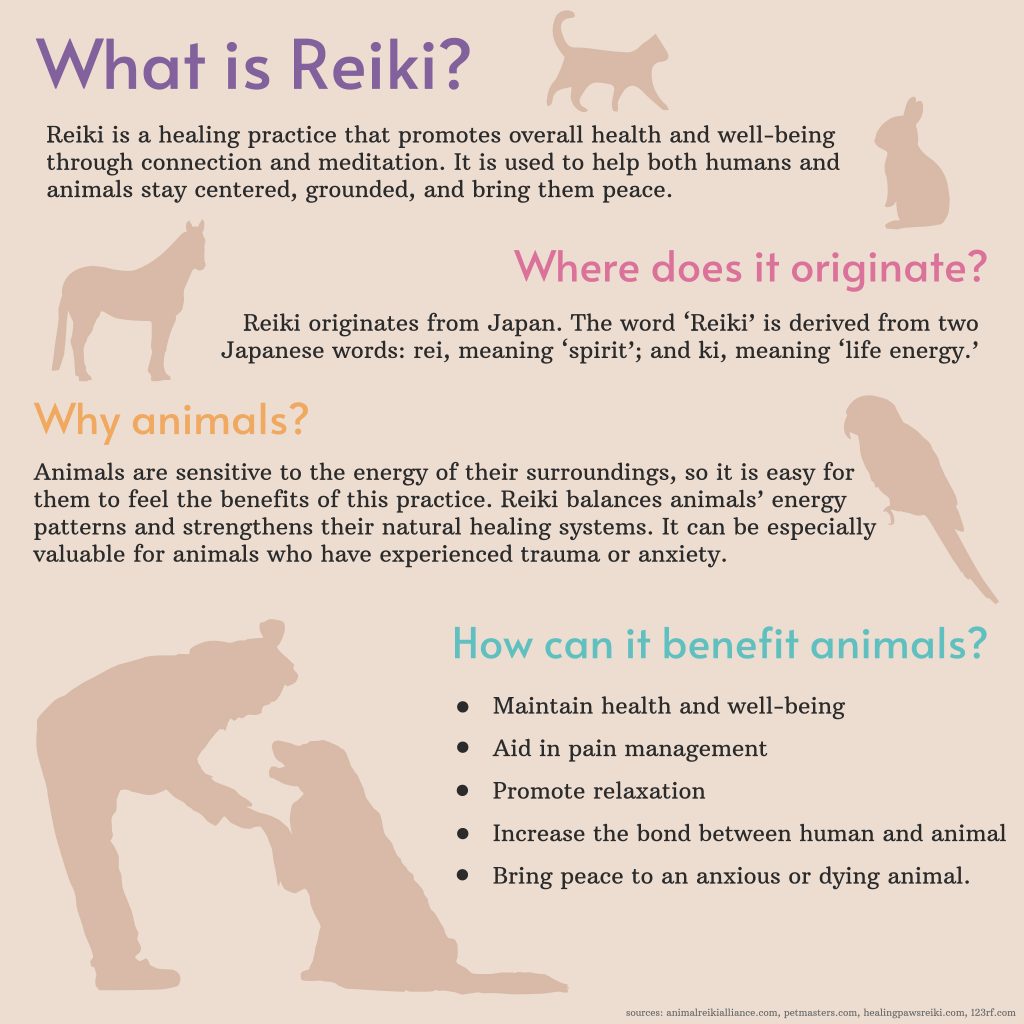 View full details
Shipping

Shipping calculated at check-out. Allow 2-3 weeks for delivery please.

Returns

Full returns available within first 30 days of purchase. Item must be in unused state and great condition.

If an item is damaged or breaks within first 30 days please return all beads for full or partial return.

But you're going to love it so much with no issue so this is all gibberish :) All products hand made by me and, I'm a stickler for quality!
Random Acts of Art is a big deal. Sharing LOVE & BEAUTY in our shared community. We've all had those times when a simple message or gesture meant so much. See how YOU can SPREAD THE LOVE!
Community Sound Bath
Please join one of my monthly Sound Baths for relaxation, meditation and energy balancing. Using overtone emitting instruments producing Solfeggio frequencies for healing and wellness. These are pay what you can, all are welcome. Bring a mat, pillows, eye mask... whatever makes you comfortable to lay for 45 min. I do ask you remain respectfully quiet as to not disrupt others' Zen :) Upcoming dates